In a historic move, Benin has legalized abortion in most circumstances and now has one of the most liberal abortion laws in Africa. This Q & A with Dr. Bilguissou Balde, director of Ipas Francophone Africa, looks at the law's impact on abortion access and the steps Ipas is taking to ensure that the promise of the law is fulfilled.
What does this law change mean for women in Benin?
Balde: It's a bold step forward and demonstrates the strong commitment of the Ministry of Health to improving sexual and reproductive health and rights across Benin. Currently, 15% of maternal deaths are due to abortions performed under unsafe conditions. By expanding access to safe, legal abortion care, this new legislation will save girls and women's lives and give them the right to make decisions about their own health and futures.
On what grounds is termination of pregnancy now legal in Benin?
Balde: Previously, abortion was legal only to save the pregnant person's life or in cases of rape or incest and it was only very tenuously applied. It's now legal in many more situations.  Abortion is now legal up to 12 weeks gestation in cases where the pregnancy "is likely to worsen or cause a situation of material, education, professional or moral distress which is incompatible with the woman's interests."
This is progressive and women-centered, as it recognizes the importance of abortion access for a wide variety of reasons, such as continuing education, reducing economic stress, and protecting mental health. We hope to see even more progress in the future, so that so that those who need abortion care at or after 13 weeks gestation also would be able to get safe, legal services. The law also needs more flexibility for young women and minors, whose access is still very restricted with the new indications.
What role did Ipas play in achieving this law change?
Balde: Ipas has been working in Benin for many years. One of our first interventions was to work with the Ministry of Health and technical partners to gain a clear understanding of the abortion landscape in Benin. We supported the ministry in conducting a national assessment that looked at the number of unintended pregnancies and the need for abortion and contraceptive care, based on WHO research guidance. The assessment showed there was a significant unmet need for contraception and abortion services and laid the groundwork for advocacy around law change.
We then worked closely with youth-led and feminist groups and individual champions, such as the Coalition of Youth Organizations for Safe Abortion (COJASB), Medical Students for Choice and the Association of Women Lawyers of Benin, to disseminate and discuss findings from the assessment. We also conducted educational workshops with health professionals, parliamentarians, and other key groups to help them reflect on their values and attitudes toward abortion and consider the health and many other consequences, when safe abortion services are not available.
To further drive public awareness, we did another type of assessment—a sustainable abortion ecosystem assessment—that involved working with community members, health professionals and other stakeholders to identify the optimal approaches and partnerships needed to support the abortion ecosystem in Benin and ensure equitable access to abortion care given the new legal framework. All of these efforts combined helped raise awareness about the type of system-wide changes needed to expand abortion access and inspired champions who publicly supported the law change.
What is Ipas doing to get this law fully implemented?
Balde: We're working with the Ministry of Health and a wide range of their partners to finalize a national roadmap for expanding abortion access—a workplan that's informed by the new WHO guidance and will ensure the voices and need of civil society, including youth groups, will be heard throughout the process.
Early March, Ipas Francophone Africa also organized a study tour to the Democratic Republic of the Congo (DRC) that provided some amazing learning and inspiration for a handful of advocates from Benin. Abortion in the DRC was highly restricted until 2018, when the legal conditions for abortion access were expanded. Ipas DRC and other partners have worked to see that the law is fully implemented there, and their work has paid off. For example, there are now progressive national standards and guidelines for comprehensive abortion care in the DRC.  The study tour will allow Benin leaders and youth champions  to benefit from the DRC experience especially as they finalize the legal guidelines for the new indications for abortion in Benin.
The study group included a representative from the Benin Ministry of Health, youth advocates, and medical students. The group learned a lot about the strategies and approaches used in the DRC to implement their law, such as public education campaigns to reduce the stigma associated with abortion. The study tour was a good starting point, and we will continue to facilitate conversations and events in Benin to push toward full national-level implementation of the new abortion law. The tour helped Ipas show the real difference between women-centered care and restrictive access, and the benefits to removing administrative and legal barriers to services.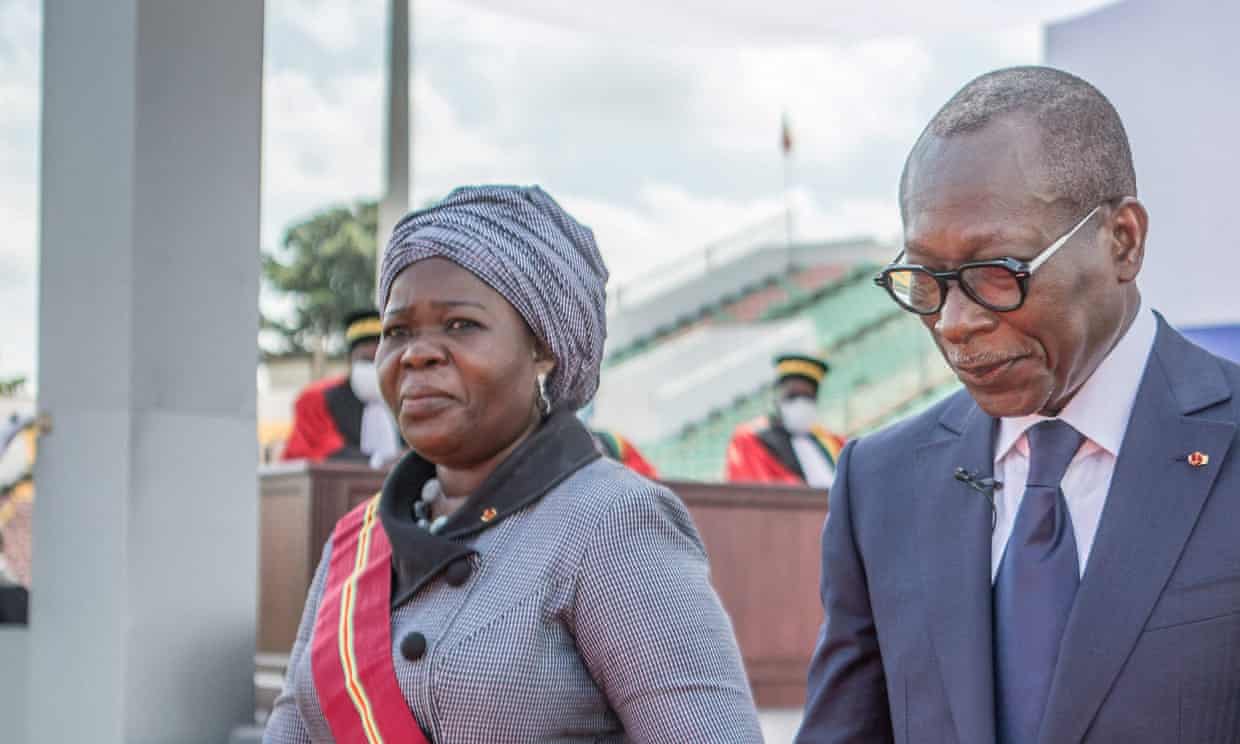 Vice-President Mariam Chabi Talata and President Patrice Talon are inaugurated in May last year. Photograph: Yanick Folly/AFP/Getty Images